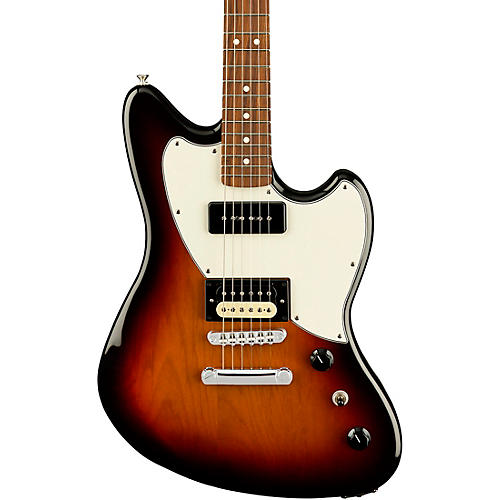 I have to admit that I haven't been too impressed with Fender's offerings for quite awhile. I have three Strats and a Tele, but I haven't seen anything coming out of Fender that got me really excited; that is, until now.
When I checked my email this morning, I saw one from Fender entitled, "Alternate Reality | The Powercaster." At first, I rolled my eyes, but when I went to read the email, I was immediately intrigued by the body shape. I thought that it looked like a Jazzmaster or Jaguar. Then on closer inspection of the picture, I saw that it has a P90 in the neck and a humbucker in the bridge. The very first thing that came to my mind was: Rock Machine. So I decided to take a closer look.
So I went to the Powercaster product page. Maybe I shouldn't have because now I want one of these!
Before I go on, here are the basic specs:
Alder body
Roasted maple neck (wood is roasted to remove all moisture)
Pau ferro fingerboard
Synthetic bone nut
24.75″ scale length
9.5″ neck radius
Modern "C" neck shape
Adjusto-matic bridge with hardtail
Comes in 3-color Sunburst, Surf Green and White Opal (it's like a translucent grey)
Made in Mexico
Street price (so far): $899.00
One of the first things I noticed was the scale length and neck radius. Look familiar? It should because those are Les Paul neck specs. When I saw the scale length, I started salivating because the feel would be like a Les Paul. And being a Les Paul guy, I imagined that I would be right at home with this guitar.
After reviewing the Powercaster site, I went to the forums and gear blogs to see what others thought. The reviews were mixed. One person didn't like the Tune-O-Matic style bridge (I actually would've preferred a more modern bridge like a Gotoh 510). Another didn't like the thought that Powercaster didn't have a "Fender" sound based on demos he saw. Another didn't like the Gibson scale length.
Others like me, love the features. But the person who didn't like the scale length also brought up a couple of valid points. First, they didn't quite know who the target consumer of this guitar would be. He also pointed out that considering the price and where it's made, the price point sits just below American-made prices. These are very valid points that I'm sure will need to be sussed out a bit more.
Personally, I think that this guitar is aimed at someone like me who doesn't have a dogmatic perspective of brands; for instance, if something is branded Fender, then it has to have a Fender sound – whatever that is. I tend to judge gear based on their own merits, and I LOVE that P90/Humbucker combination! I also love that roasted maple neck because dry wood is very resonant. And as far as the price is concerned, while it's about $150 more than other MIM guitars, I don't think it's really all that out of line.
Of course, while I'm excited by the features and possibilities this guitar has on offer, I need to get my hands on one and play it. But it sure shows a LOT of promise!