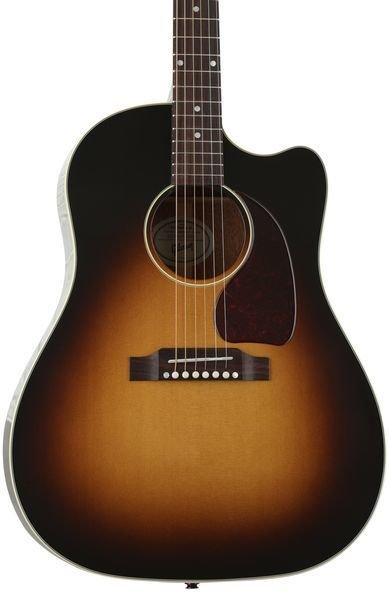 Even before I received my trusty Simon & Patrick PRO as a gift from a friend, I've been looking to get a Gibson J-45 acoustic. Ever since I played one in Hawaii a few years ago, that guitar has been at the top of my list as my next guitar (I also want to get another Les Paul, but that's another story).
Unfortunately, my financial obligations (read: college tuitions) have made it such that I've had to defer that purchase. Truth be told, my S&P PRO has been a great interim guitar while I've been deferring getting the J-45. But I've recently been able to free up some funds, and it's time to get the J-45.
So, as is my custom, I started doing research on the best pricing, etc.. Damn Gibson! (I say this tongue in cheek) Give them credit for trying to address different players' needs, but just as with the Les Paul, they've got several models of the J-45, forcing me to do even more research than what I originally anticipated.
One of the features that I wanted was a cutaway model, so that narrowed it down a bit. I did some searches and came across several forum discussions; one in particular that gave me a laugh. In that discussion, someone had asked what others thought of the J-45 cutaway. 99% of the responses were on the level of "heresy" or "sacrilege." The puritanical response was what made me laugh.
One person even claimed that most people who get a J-45 probably won't play above the 7th fret except for using a capo, so why have a cutaway? I was amazed at how many people agreed with this. While that claim might be true given the overall population of guitar players, almost every demo I've seen have demonstrators regularly playing above the 7th fret. Yes, it was a stupid claim.
For me though, ever since I started focusing on reggae and reggae-inspired music, I make regular trips to the high frets; furthermore, playing lead guitar, having a cutaway gives me much easier access to the high frets, and makes fretting above the 12th fret so much easier. But even before my reggae bent, I've mostly used cutaway acoustics precisely for high fret access.
So, to each their own. Buy what you need and buy what pleases you. If you want the pure, traditional stuff, no problem. If you want more modern features, go for it.
For those who are curious, I've decided to go with a J-45 Avant Garde Walnut Burst. Sacrilege indeed! A thinner body cutaway made of sustainable wood. 🙂