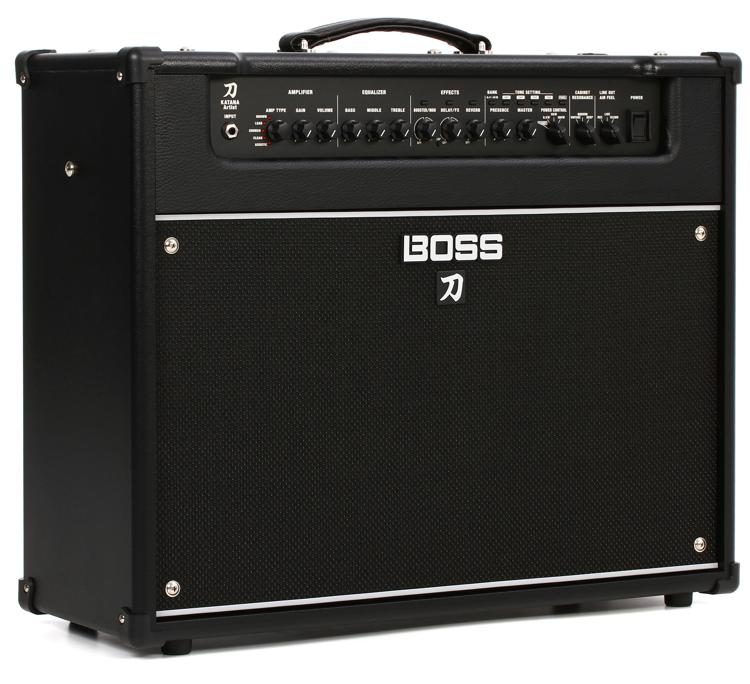 I just got my brand new BOSS Katana Artist this evening! OMG! What a beast. Since the family was home, I couldn't really crank it, though I doubt I'll ever really crank it at 100 Watt because it's LOUD – even at .5 Watt. So I played around with it with my Les Paul, trying out the different gain settings, and trying out the effects.
But what I was REALLY interested in was the Line Out because I want to be able to plug this puppy into a board. On top of that, I wanted to see how my acoustic guitar sounded through the amp and the line out, because I will using the amp this Sunday at church and will be plugging it into the board.
But before I did that, I set up the amp to get a good sound through the speaker with my acoustic. It really didn't take long at all. I just had to get the right Gain and Volume settings and do some minimal tweaking of the EQ by rolling off the highs (if I have time, I'll probably use the 7-band Graphic EQ in Tone Studio to really dial in the EQ. But rolling it off just a smidgen got me real close.
Once I had it dialed in, I plugged in the Line Out and hooked it up to my audio interface and into GarageBand. It sounded extremely close to the live sound! I did set the Line Out Air Feel to "Live" for a distant mic simulation, but even the "Rec" setting, which is a close-mic simulation didn't sound all that bad. But the extra "air" gave the guitar a little depth.
Inspired, I recorded a few quick tracks to demonstrate how good it sounds. Check it out:
As expected, yes, there are bits of digital traces in the tracks. But you really have to listen for them. Plus, I'm using a regular instrument cable running from the Katana to my audio interface (I have a couple of TRS cables on order). I'm expecting much better sound once I have a balanced cable. But the important thing is that running into a board, it's going to sound awesome! What I'm looking for is a usable tone that I can send to the PA without having to mic the amp, and that tone is much more than usable.
Mind you, these tracks were recorded with no EQ or filtering whatsoever. The reverb and slight delay were applied at the amp and not in GarageBand.
One thing I was particularly keeping an eye on was the waveform for each of the tracks. If the Line Out was overly processed, there would be very little dynamics in the wave form. But the waveform for each track looks like the guitar was miked!
The picture says it all. The Line Out maintains the dynamics of what I'm playing. No compression; or little if there is any at all. It really is awesome. The sound is natural with none of those midrange transients so reminiscent of a plugged-in acoustic guitar that you hear on recordings. I'm going to have no problem using this amp plugged into a board or an interface!
To be completely transparent, I didn't lay down any tracks with my Les Paul because I didn't like how the wave forms were looking. But that was more a function of adding a track to an already mastered song. I will do a raw recording once I get used to dialing in the overdrive settings.
I know, providing sound samples is a little backwards compared to my usual method of doing a review, then following it up with a studio test. But I was so impressed with how the Line Out worked with my acoustic that I just had to put it out there!