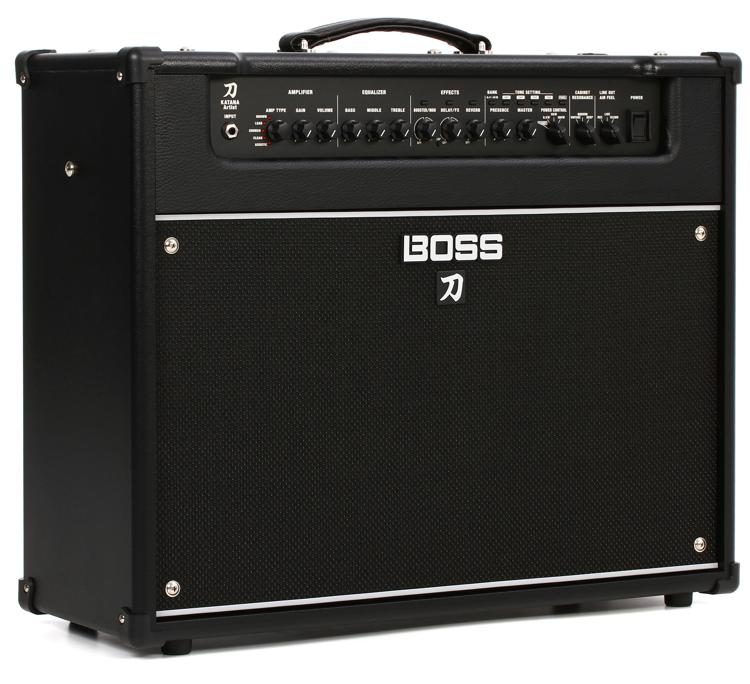 Summary: The flagship amp of the Katana series, the Artist provides the ultimate in versatility to an already versatile line of amps. But with its larger cabinet and WazaCraft speaker tuned specifically for the amp, it has a richness in sound that surpasses the rest of the line.
Pros: As with the Katana 50, I have lots of praise to heap on this amp. The sounds it produces in addition to the feel and dynamics are incredible as with the other amps in the line, but the Line Out is really the secret weapon of this amp. And having the cabinet resonance and Line Out Air Feel – which simulates microphone distance – on the front panel makes it super-easy to dial in your direct signal to a board or a DAW.
Cons: My only nit with this is that I wish it had at 25 Watt setting. The difference between the 50 Watt and 0.5 Watt is so drastic, it makes me wish for a "tweener" power level.
Tone Bone Score: 5 
No two ways about it: This is a great amp.
Street Price: $599.99 
I've already written so much about this amp since I got it, but I'll reiterate: This ain't yo daddy's solid-state amp. Ever since I got the Katana 50, I couldn't believe that a solid-state amp could have touch and dynamics similar to a tube amp, let alone get as big a sound. And as I said in my review of the 50, I really tried to make it suck, but couldn't. I did the same with the Artist.
Granted, when I first got it, the speaker was absolutely fresh. But now that I've been playing the amp daily for the last couple of weeks, the speaker is breaking in and the sound is becoming silky-smooth. I've done four gigs with the Artist and the sound just gets better every time I play it.
On top of that, I've been using recording with it daily. The Line Out is incredible. The sound I get out of it is so natural and so very close to a miked cabinet that I haven't bothered to set up any of my tube amps. Of course, that could change depending on the song I'm recording because you just can't duplicate something like a Plexi.
But make no bones about it, though it is said that the speaker was tuned to approximate an old Greenback through a vintage Marshall, this has more to do with feel and dynamics and less about sound. As I've said before, though the Katana is technically a modeling amp, using BOSS' TubeLogic technology, it wasn't voiced to sound like a Marshall or a Fender. It has a sound all its own.
Fit and Finish
Though only 45 lbs., this amp is built like a tank. The cabinet is MDF and though there have been comments circulating that it would've been better for it to be made of solid pine or birch, the semi-closed back makes it incredibly resonant and able to capture the low frequencies very well.
I absolutely love that the controls are on a front panel! It makes it so convenient to tweak during a gig, which I had to do last weekend at church. We have a really finicky PA system (what can I say, it's old), and for some reason, my guitar was sounding horrible through the Line Out. But all I had to do was turn the Line Out Air Feel to "Blend" and all was right. I had the same setup as the previous week and it sounded killer. Everything on the board was also set up the same. That the Air Feel control was on the front panel made it super convenient; not to mention that I didn't have to go into the software to make that change…
As far as controls are concerned, if you have any of the other amps in the line, you'll immediately be familiar with this control layout. The big difference is the exposure of the cabinet resonance and line out air feel knobs. On the back, there are jacks for a GA-FC (which I highly recommend getting), extension speakers (16 ohms), headphone/record out, MIDI in, expression pedal, an effects loop jacks. In other words, pretty much everything that you need.
As far as the GA-FC foot controller is concerned, that's a must-have as it allows you to quickly switch channels but also turn effects on and off on the fly (which I find extremely useful). In addition, you can hook up an expression pedal directly to the GA-FC so you don't need to run two long cables from the amp to use the foot controller and an expression pedal. The GA-FC also has an extra jack for a volume pedal.
How It Sounds
One striking difference between the Artist and the 50 is the Acoustic setting on the amp. My old 50 sounded okay with an Acoustic guitar, but the Artist has a rich, deep tone that rivals my old SWR California Blonde which I have always felt was the pinnacle of acoustic guitar amplification. The semi-closed back really helps in capturing and projecting the rich lows of an acoustic guitar. In fact, the lows are so good, that I have to roll them off a little on the EQ.
To date, I still haven't miked the amp. For recording, the Line Out produces such a nice, natural sound that I haven't seen a need to mic it. This is evidenced by the dynamics in the wave-form it produces. It is VERY dynamic, much like the output I'd get from miking the amp.
I've already posted these clips, but here's a playlist I created:
The first three clips are of my acoustic guitar through the Line Out. The EQ was all neutral. With the last two songs, I wanted to see how the Line Out performed within the context of a song. Someone in a forum kind of bagged on me posting a song and should have only posted raw clips. But I argued that while raw sound clips are useful to a point, you really see how something performs when it's done with a song. And in that regard, the Katana Artist's Line Out is AWESOME!
Ease of Use
Like the rest of the Katana line, this amp is easy to set up. Even the Tone Studio software is pretty straight-forward to use. Some people might argue that there are lots of things to tweak and that, by virtue, makes it much more complicated. But I want to make absolutely clear that I believe the amp's natural sound is great by its own merit. A lot of the tweaks and patches I've seen people make try to make the amp sound like another amp. But for me, I love the way the amp sounds on its own. So for me, it's simply a matter of dialing in the gain settings and EQ. Since I make limited use of the onboard effects, I don't do much tweaking, so set up – at least for me – is super-easy.
How It Plays
As I mentioned in my original Katana 50 review, this is what endeared me to the Katana in the first place. It was the first amp that gave me tube-like response and dynamics. But more than that, it didn't feel as if the response and dynamics were simulated or artificial. In fact, it felt completely organic and natural, just as I would have expected with a tube amp. The Katana Artist inherits this but with the larger cabinet and much much better speaker, that responsiveness is coupled to great sound.
Is the Katana Price-Competitive?
One of the arguments people have made about the Artist is that its price starts getting into the territory of some low wattage amps. But the one thing you have to keep in mind is that while this is true, a tube amp at that price will not have anywhere near the features that come with the Katana by default. Plus, let's face it, amps at that price are going to be fairly low wattage. They will not have the big sound that you can get out of the Katana. Furthermore, tube amps at this price point will most likely be heads. You have to spend more to get a cabinet.
So is the Katana price-competitive? To me at least, the value it brings for the price makes it a totally viable option.
Should You Upgrade?
This really is elephant in the room with respect to the Artist, so as opposed to giving you a pat answer, I'm going to take a bit of time with this…
To be honest, I probably wouldn't have considered the Artist had I not given my Katana 50 to my youngest son. I was using the amp mainly for gigging, and I was perfectly happy with it. I certainly didn't need a 100 Watt amp, especially considering the venues that I normally play. The Katana 50 was plenty loud; besides, when I needed sound reinforcement, it was simply a matter of miking the amp.
But one shortcoming I saw with the 50 was that I didn't like to use it for recording. I was not at all a fan of the headphone/record out. From that perspective, I was just fine recording one of my tube amps and using an IR and using the 50 as a pure gigging amp. But all that changed with the Artist. The Line Out output quality is killer, and as I spend a bulk of my playing in my home studio, the Artist is quickly becoming my go-to for my basic guitar part foundation, if not more. So for me at least, upgrading made a ton of sense.
But for those of you who are a bit conflicted about upgrading, it really depends on how useful it would be for you. For me, I've discovered a TON of versatility in it due to the Line Out. But then again, I'm actively gigging and recording, so it is invaluable in those respects.
But to be honest, take away the Line Out, and the only glaring thing that is better with the Artist is the sound quality which is much richer than both the 50 and the 100. It's obvious at all volume levels. That bigger cabinet definitely makes a difference. And for some, while the obvious difference in sound quality could be a deciding factor, for me – and I know it sounds crazy given how much I love this amp – it wouldn't have been enough for me to upgrade. And to be completely honest, it wasn't until I started using the Line Out in recordings that I truly discovered its real value for me.
So am I or am I not recommending the amp? Well… yes and no. I'm basing my assessment of the amp on its versatility in both stage and studio use. And as far as versatility is concerned, I can give a resounding yes. But I have to be transparent and say that if you're just going to play the amp in your bedroom, or just want a straight-forward gigging amp, stick with what you have for now. It's great, but it's not enough of an upgrade.