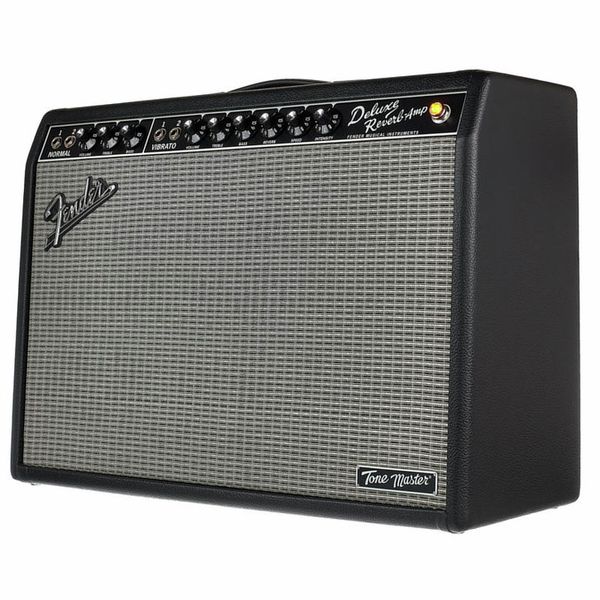 …I bought the Deluxe Reverb instead. In my previous article where I had test-driven the Twin, I said that while I loved the amp, I had to test drive the Deluxe before I made a decision.
I wasn't intending to buy the amp today, let alone any amp. But I wanted to try the Deluxe out as the Guitar Center in San Mateo, CA was just five minutes from my office. So after my last meeting, I headed there to try it out. I picked out a Tele from the rack, plugged it in, then twiddled the Bass and Treble knobs to get a good sound for the guitar. It took all of five minutes to make a decision to buy the amp. I was sold.
What did it for me was cranking down the attenuator to 0.2 Watt and cranking the volume all the way up. As soon as I struck a chord, I knew this was the amp I wanted. At that moment, I knew why people loved the sound of a cranked-up Deluxe. There's something visceral about the overdriven tone of a Deluxe – you feel it in your bones.
No, I wasn't pushing SPLs, but no matter. I realize that's where the magic happens. But that cranked sound even at that low volume was absolutely amazing to me! Truth be told, I'd never run the amp fully cranked as I get a lot of my overdrive from my pedals. But that sweet, open overdrive just made me close my eyes and smile inside. I just can't wait to gig with it!
Then to top it off, I got a 10% discount and the guy at Guitar Center threw in a nice ProLine amp stand to boot! I'm a happy man!
After I got home and had a bit of dinner, I started playing. And playing. I started out with my Taylor T5z as that will be the main guitar I use for gigs with the amp. I had to really roll off the lows on the amp for that guitar. But once I had the EQ dialed in… Wow! My next gig is going to be fun!
Then I switched to my R8 Les Paul. The amp started humming with that guitar, and I realized that I probably have a grounding issue – going to have to get it fixed. So I switched to a guitar I rarely play, and that is my '90s Godin Artisan ST V. Damn! Why haven't I been playing that guitar more?!!! It sounds absolutely KILLER through the Deluxe! It sounds like a fat Tele!
I distinctly remember having a difficult time dialing in the guitar with my old Katana 50. But I had absolutely no problem finding the right EQ settings with this guitar – they were the same as my T5z! I may switch back and forth between these guitars. I'll see how that works at band rehearsal coming up on Sunday.
While I dug the Bright switch feature on the Twin, plus having a Midrange knob, I love how the Deluxe is uncomplicated. I mean REALLY uncomplicated. I started playing it around 6pm this evening, and I've been playing it for the last three hours. It sounds so killer! And since I don't have a cacophony of features to dig through, I'm up and running lickety-split!
But here's a feature about the amp that is so incredible yet has nothing to do with the amp's sound. It only weighs 23 pounds! 23 freakin' pounds! I haven't had an amp that weighs this little since my trusty old Roland Cube 60! I can easily lug this amp to a gig without using a hand cart! And going up a staircase with this amp will be a breeze! I once played a gig where I had to haul my Katana Artist up some stairs and it was a pain in the ass! But this amp? It's like carrying a suitcase. No problem!
What I'm really looking forward to is plugging this into my audio interface and PA. This is even more of a game-changer than my Katana with its line-out feature purely because it's a balanced XLR out. With the Katana, I needed a 1/4″ TRS cable, then an XLR converter to plug into a PA. That's not necessarily a bad thing, but using a single XLR is a helluva lot more convenient. As far as game-changing is concerned, as with my Katana, I just need to be loud enough to hear myself, then let the PA do the work of getting my sound out.