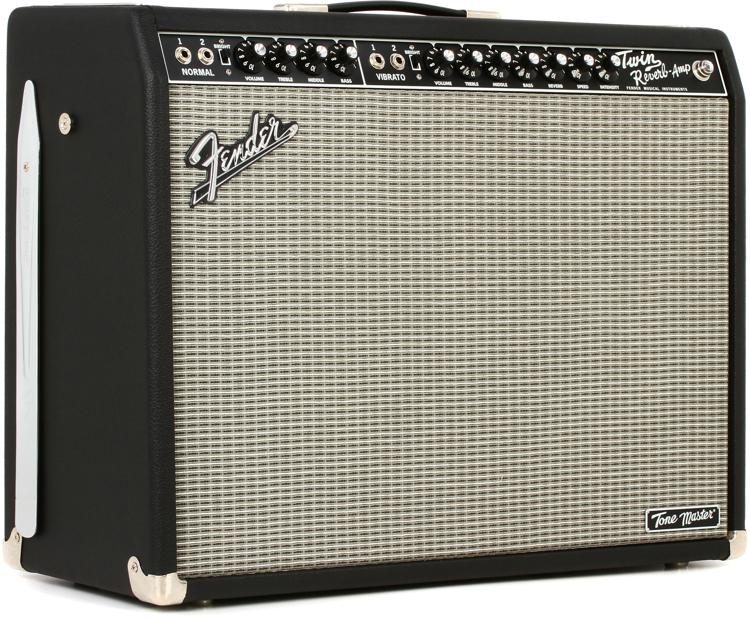 If you don't want to read any further…
Damn! I shouldn't have loved it, let alone like it, but I absolutely fell in love with this amp! I'm not ready to buy it as I've got to try out the Deluxe Reverb, but I probably will get one of them. Now that that's out of the way, let me give you the back story.
TL;DR
With the pandemic lockdown over, my former old farts classic rock band asked me if I'd like to come back and play with them. At first, it was just to sub at an upcoming gig for their current lead guitarist who had to attend a company retreat. But over the course of a few rehearsals leading up to the gig, they kept on hinting, then finally just outright asked if I'd play with them again during the break at our gig. I had forgotten just how much fun I had playing with them so I readily agreed.
For the gig, I used my BOSS Katana Artist. I love that amp and through the first set, it worked awesome. But a few songs into the second set, its volume started fluctuating. I powered it down then powered up again, and it didn't happen again during the gig. But my confidence in the amp was shaken. And an amp isn't something that I normally bring a back up for a gig. So needless to say, that experience put me in the market for a new amp.
A couple of days ago, I took a bit of time to go down to my local Guitar Center. They didn't have the Deluxe in stock, but they did have the Twin. So I took it out for a spin.
Like a regular Twin, it's all about clean headroom. But the totally AWESOME thing about this amp is that it has power scaling, basically a built-in attenuator to reduce the output wattage of the amp so you can crank it. The Deluxe allows you go all they way down to 0.2 Watt and the Twin lets you go down to 1 Watt. That's still pretty loud, but it does let you crank the amp and not make your ears bleed.
The dirty sound of the Twin is just okay. Truth be told, it doesn't break up a lot, but that's not what you get an amp like that for. But for cleans and tons of clean headroom, this is a GREAT platform. And though the sound is a little different from an original Twin (which frankly you should be able to get real close with EQ), the sound is unmistakenly Fender, with that luscious three-dimensional quality about it. If the amp didn't have that quality, I would've dismissed it out of hand.
But the sound is good. Real good. And for me, it was so good that I almost bought it on the spot, but I need to try out the Deluxe before I make a decision.
And I almost forgot… The amp only weighs 33 lbs! An original Twin starts at 64lbs and goes up. My buddy's Twin weighs over 80 lbs! And the Deluxe apparently only weighs 23 lbs! For an older guy like me, that's totally appealing.
I didn't get to try the feature out at the shop, but I dig the fact that it has an XLR out with optional cab simulation IRs. This is a total value-add as I can get my sound into the PA and not have to rely on the amp to get my sound out. I can keep it at a reasonable volume near me and let the PA get my sound out to the audience.
An XLR out. Power scaling. Great sound. I'm sold. I've always leaned towards the Twin because I just love the Twin's sound. But I'm a little conflicted because the Deluxe's dirty sound is damn good, at least from what I've heard on demos. It's the kind of amp you set at the edge of breakup then use a combination of volume knob and pedals to tip it over the edge. It's the way I've set up my amps for years. But lately, I've been wanting a lot more clean headroom.
Then there's the weight of each respective amp. The Deluxe is a total lightweight at 23 lbs. And though the Twin only weighs 33 lbs, that's still a 10-lb difference. I really need to A/B the two amps.
Circling back to sound, one might ask just how close to the sound of an original Twin does the Tone Master get? I've played several Twins over the years, but I didn't have one to A/B, so I can't really answer that question. But at least for me, the Twin has always been about the classic scooped, Fender sound. The Tone Master has that down in spades. And though it's a digital amp, emulating an original black face, that emulation is damn good, both in sound and dynamics; so good to me at least that even if it wasn't emulating an original Twin, it could easily stand on its own merits as a great amp.
Plus, with the two speakers, the spread of the sound is wonderful. Whereas a single 1 X 12 is pretty directional, the two speakers of the Twin provide a sonic spread that adds depth and breadth to the sound.
As compared to my Katana Artist or other digital amps, the Tone Master might seem to be a one-trick pony. But to me, therein lies its beauty. What Fender has done is to create a digital emulation that is absolutely superb, focusing solely on that as opposed to other amps that include effect emulation and/or emulation of several amps. It's this focus on a single platform and doing it excellently that to me at least makes it stand out.
Admittedly, it's not for everyone. For years, I've gravitated towards the Marshall Plexi sound. I've always had a Fender amp of some sort in my studio, but for playing live, I've mostly used Marshall style amps. That changed when I got my Katana that I got specifically for its clean headroom to be a pedal platform.
That amp has a sound all its own, and I was actually thinking about getting another one. But what I think influenced my research into the Tone Master line was the old Fender Ultra Chorus I use at band practice. That amp just oozes Fender clean goodness. It's a great clean platform that emulates my live sound.
If I had any negative marks about the Tone Master line it's the same negative marks I give to other Fender products. That is the price. At $1049 for the Twin, it's a bit of a steep barrier to entry. The Deluxe is $949.
With only a few features, you might think that the prices Fender's charging exceed the value of the amps. But if the sounds differ from the originals much like the difference in sound due to different tubes or speakers, then perhaps the value lies in the emulation software and computing power of the amps. The Deluxe uses dual processors, while the Twin uses quad processors.
That said, you can occasionally get these on sale for slightly less. I may wait for a sale. Or maybe I won't. I do know that I will end up with one of these amps.