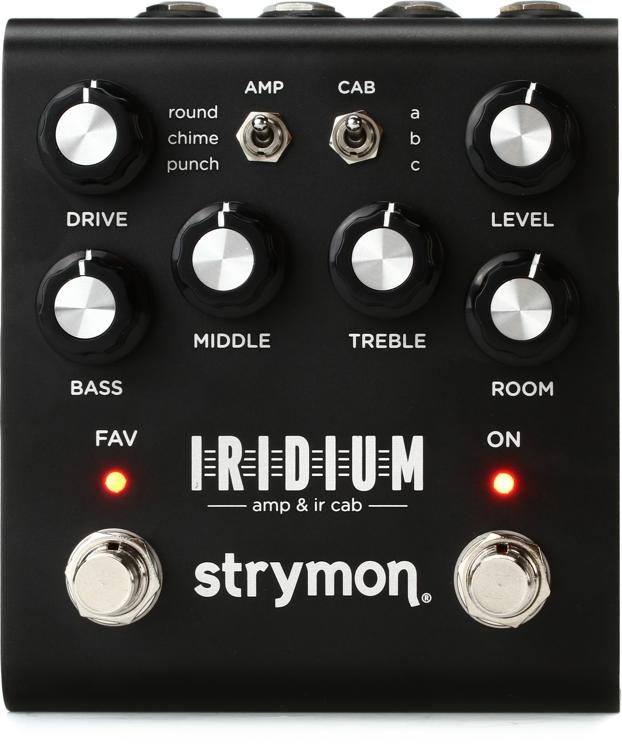 Up until recently, you had two options in the digital modeling world: A full-blown modeling amp (BOSS Katana, Fender ToneMaster, etc.) or, a dedicated, self-contained amp sim and cab unit like the Helix, AxeFX, or Kemper. If you've read this blog as of late, I've personally gone the full-blown digital amp direction. I couldn't be happier with how it works for me for live performances. And it works great in the studio as well.
But in my last recording session, I thought to myself that it would be great to have a compact, standalone unit that I could just plug into my interface and record; a middle ground between full-blown amp and a self-contained unit. One could argue that that could easily be accomplished by a Helix or AxeFx. No argument there. But what has kept me from going that route is the complexity of those units. I abhor deep tweaking. For me, I just want to twiddle a few knobs and be done with it. I want to get to making music.
And maybe the Iridium is the answer to that. With only six knobs and two three-way switches, giving me access to three different amp models, it could very well be that middle ground.
Granted it has much more in common with the Helix-like units being a self-contained unit itself. And though you can load your own IRs into it, you can't do much more than that, whereas with the Helix and the like, you can affect everything in your virtual signal chain. For some, that's a panacea for all their guitar sound needs. But for others like me who just want something basic, the Iridium seems to be a much better fit.
As for live use, at least as far as I'm concerned, I don't know if it's something I'd use live on a regular basis, though there's one particular venue where I have an FOH tech that can send my guitar sound back to me where it would be useful. Where I know that I'd get the most use out of this is for recording.
I shared this video on my post about Keven Eknes and it demonstrates just how good the Iridium can sound plugged directly into an interface:
Granted, that dude is an absolutely killer player. But according to him, he just went direct into his interface. Reverb and delay were added in software.
As with all Strymon products, they don't come cheap. At $399, it's definitely a serious investment, which unfortunately is a limiting factor for me. Whether or not I decide to make the investment is going to depend heavily on being able to demo the unit to see if it works for me. Luckily, I know a few people who are considering getting this so hopefully I'll be able to try it out.