Up until about 20 years ago, I was primarily an acoustic guitar player. I had some second-hand electric guitars that my younger brother gave me, but I didn't have an amp. To remedy this, I'd borrow my brother's JC-120 if he wasn't gigging.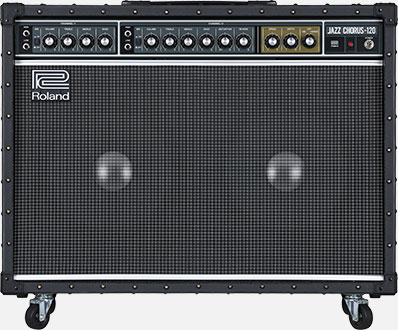 That amp was an absolute BEAST! And what I mean by that was that it was huge – and heavy. As you can see in the picture above, the amp has casters. That's the modern version. Back in the '80s, you had to install your own, which luckily, my brother had installed. In modern trim, the amp weighs in at a hefty 63 lbs. But I recall the original was heavier, like 75 lbs – my brother likened it to hauling around a Fender Twin.
But in that heft was the ultimate in clean headroom. With its dual 12″ speakers, that amp could absolutely sing and sing LOUD. You never used its distortion – talk about playing a musical chainsaw – but you could put pedals in front it. It was the perfect pedal platform.
And then, of course, there was the built-in chorus. That effect alone gave the amp its distinctive character. I always had it on when I used that amp; never fully wet, but just enough to tell me that it's there. Combined with the stereo speakers, the chorus gave the amp's sound depth.
And all this in a solid-state amp!
I look fondly back on those years in the '80s and early '90s when I used that amp the most. I was nowhere near as discerning about gear then as I am now. But I also didn't have the financial means back then either to afford being discerning. But even today, I think the JC-120 is one of those standout, classic amps that's right up there with the venerable Fender Twin or the Marshall Plexi.
Being solid-state, it gets nowhere near the love that its tube amp cousins get. But it's no accident why players like Albert King, Andy Summers, and even Satch played a JC-120. Great is great.