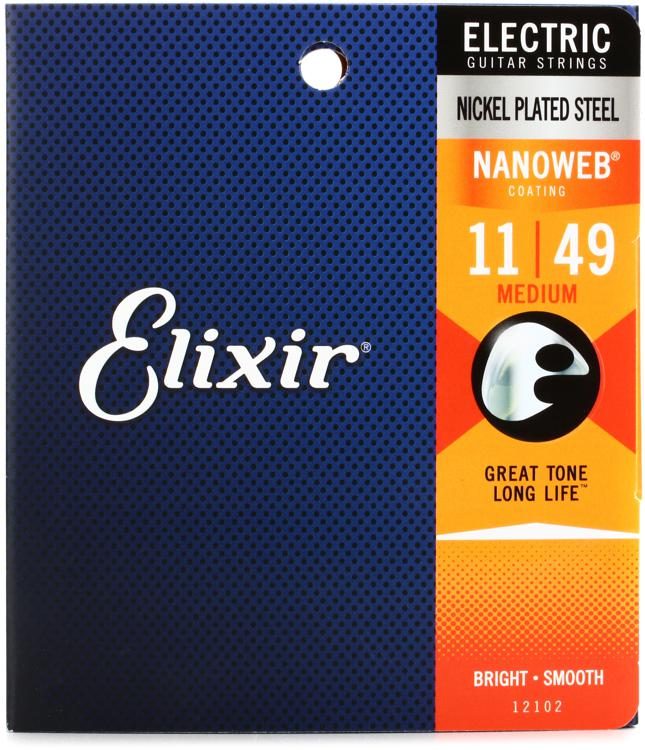 Summary: Smooth. That's the one word I can describe these strings that applies to both sound and feel. Amazingly enough, even Elixir describes the feel as "smooth" on their website. They're no making baseless claims. These feel and play as smooth as silk.
Pros: It's a coated string, so it's going to have a longer life by its very nature. Time will tell just how long. The sound and feel are dynamite, but its in the feel department where this string stands out.
Cons: None that I can think of other than these strings lose their brightness pretty quickly. So Elixir's marketing that states these strings are bright, well, at least for me, that may just be initially. But for me that's a good thing because I hate playing new strings.
Tone Bone Score:
I'm taking just a little off because I don't quite agree with the tonal description from Elixir that these are bright strings. They become smooth-sounding pretty quick (I'll talk about this more below). But as I mentioned above, that's not necessarily a bad thing.
It's Practically Impossible to Be Objective with a String Review…
…so I won't attempt to be objective, though I'll do my best…
The thing about strings is that my experience with them is incredibly binary. I either like them or I don't. For me to like a string I need to give a thumbs-up in two departments: feel and sound. If I give a thumbs-up to both, then I like the string.
But 'Dawg, your rating suggests a degree…
True. But the degree I apply in this case is an indication of how much I like the string – and I really like these strings! Yes, I took a quarter point off because my personal experience with the string is completely different from how Elixir markets the string. I don't think they're bright at all; maybe in the first few minutes. But once they stretch, their tone – at least to me – is very well-balanced, and they really come into their own after several uses.
But then, as they say, YMMV.
How They Feel
For me, I really dig these strings; especially how they feel with my Taylor T5z. Combined with the silky-smooth feel of the ebony fret board, the perfect action and jumbo frets, it's like butter. And they're 11s!
When I was evaluating the guitar at Guitar Center, I asked the very helpful sales guy what gauge the strings were. He knew the product and said that it was strung with 11s, but immediately added, "But they don't feel like 11s." I laughed at that remark because I totally agreed.
Apart from the functional characteristics of the T5z, the strings have a soft feel. I do start feeling the gauge when I'm trying to bend above a whole note, especially in the upper bout. But around the 12th fret, these strings bend like 10s.
So if you go for a lower-gauge string, you're in for a treat with these!
How They Sound
Here's where it gets really subjective. The T5z is a semi-hollow body electric guitar with a body sensor to give it acoustic guitar-like qualities. In other words, you really can't hear how the strings perform until the guitar is plugged in. Yeah-yeah, people say it sounds good unplugged, but sorry, to me, that's BS. It's like saying an ES-335 sounds good unplugged.
And then considering the amps I use with the T5z, it's not a surprise why I feel their sound is balanced. I gig with the guitar using two different amps: An SR California Blond with a 15″ speaker, and my 100 Watt Boss Katana Artist. Both of these amps have big, round bottom-ends and the T5z sounds absolutely incredible through them.
On top of that, the T5z comes with independent bass and treble EQ knobs, so that affects the tone of the strings as well. Given that and the fact that I use fairly warm amps, my personal experience with the Nanoweb strings is that I perceive them as warm-sounding. Even my Les Paul which is strung with Ernie Ball Cobalt strings – which are super-bright – sounds full and rich when I've got the EQ balanced through the Katana that I have to bump the highs up. In other words, my signal chain makes the strings sound warm.
But in spite of that, my personal experience with the strings is that even with the rich sound of my amps, the strings get warm-sounding all on their own after several uses. That's a GREAT thing for me because I prefer a smoother sound. But again… YMMV!
Overall Impression
I've already said it: I like these strings. And I will submit that I probably won't play any other set on my T5z – at least until I go through the extra sets I bought. So it won't happen any time soon because I bought a couple of extra sets. Plus, I just don't go through strings that fast – never have.
To me, I feel Taylor tuned the T5z specifically for use with these strings, so I'd be hard-pressed to try anything new. But on their own, I think I may just try out a set on my Les Paul or maybe my Godin Artisan ST-V.