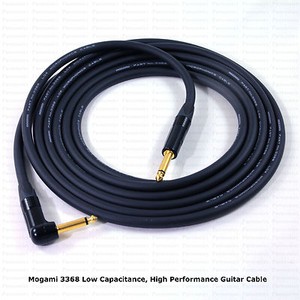 It's funny how this debate still rages. I wrote about this a few years ago and also participated in forum discussions surrounding the benefits of low-capacitance cables. The divide back then was as wide as our political climate today! So many people claimed to be able to hear a difference, and I was never convinced.
Even when presented with actual evidence that there was no sonic difference between different cables (except for super-high capacitance cables which will impede high-frequenceies), those in favor of low-cap cables were undeterred. And that's fine. Whatever floats your boat.
For me, the issue was the price that was being charged for low-cap cables. I wouldn't dream of paying a couple of hundred bucks for a 25′ length of cable just because it was advertised as low-cap. However, that said, I would pay – and have paid – more for a well-constructed cable because at least for me, durability and material quality are ultra-important.
Years ago, when I recorded my first album, I purchase a set of Mogami Gold XLR cables. I still have them and use them. They're just damn good cables that are incredibly well-built with a low signal-to-noise ratio. That they're lower capacitance didn't really figure into my buying decision. I wanted good connectors and a high-quality cable to ensure I'd get as much signal from my mic into my DAW. In that case, it makes a huge difference. But low-cap? I dind't give a shit then, and I still don't give a shit.
The reason I'm circling back to this is that I needed some gigging cables. Amazingly enough, even with the severe lockdown rules in Silicon Valley, I've been back at church to do my weekly service. Before the lockdown, I was using these great Pig Hog XLRs, but I think someone swiped them or I may have left them at a retreat venue up in the mountains – oh well, consider it a donation to the retreat center. And now that I'm back at the church on a regular basis, I needed to invest in a new set.
I decided to try something a bit different from the Pig Hog cables and have gone with Hosa HMIC Pro cables with REAN connectors. I like them because the connectors are metal. I had a set of Monster cables, but their connectors are plastic. They break.
In my search, I harkened back to the great low-cap debate and looked around for discussions on it. Yup, it's still raging…